Speed Post News Network
New Delhi : Union Health and Family Welfare Minister Dr Mansukh Mandaviya on October 10, 2021, chaired an event to observe the World Mental Health Day at National Institute of Mental Health and Neuro Sciences (NIMHANS), Bengaluru, Karnataka, in the presence of Dr. K Sudhakar, Health and Medical Education Minister, Karnataka, and P Chikkamuni Mohan, Member, Lok-Sabha, Bengaluru-Central.  Vikash Sheel, Additional Secretary and Mission Director (National Health Mission), was also present.
Dr Mandaviya, in his address,  cautioned that Mental Health is a silent killer in the country like Diabetes: "While Diabetes becomes fatal because it often goes undetected, people with Mental Health do not come forward because of stigma." He noted that change in our lifestyle and family structure as a prime culprit for the recent rise in mental health cases. He said, "Hospital is the final step. Family can spot early signs of distress in fellow members and seek help before the problem worsens. Similarly, teachers may spot behavioral changes in their pupils and offer solutions. Such steps will nip the problem in the bud."
Dr. Mandaviya observed that Government and Society can function only in sync. More research needs to be done in Mental Health on which the future policy of Government will rest where old and renowned institutes like NIMHANS, established as early as 1936, come into the picture, according to a PIB release. Citing the lack of Mental Health-care practitioners, the Union Health Minister emphasised that education oriented only towards marks do not help the nation. He exhorted the students to take up cases and opt for hands on learning in the healing of those requiring care.
Dr. Sudhakar observed that utilising the gifts of Yoga and Pranayama from our ancestors could help in dealing with stress and anxiety of the present world. "Even a morning walk in a green park elevates endorphin levels," he added. He also spoke on the exemplary work undertaken by the Karnataka Health administration during Covid-19. Altogether 24 lakh Covid patients in the State were counselled with help from NIMHANS.
This event was followed by the 25th Convocation Ceremony of NIMHANS in the afternoon where Basavaraj S Bommai, Chief Minister, Karnataka, was also present. They were joined by Tejasvi Surya, Member, Lok Sabha, Bengaluru-South, and other dignitaries.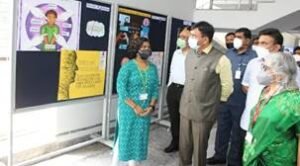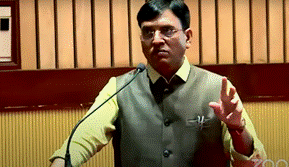 Dr Mandaviya congratulating the pass-outs said, "Around 1.36 lakh people commit suicide according to the Police Bureau. They do so because they are suffering from some mental health issues. We have to build Healthy Nation. Only Healthy Citizen can make Healthy Society which in turn build a Healthy Nation. He added, "for doctors passing out today, there is a readymade scope for them to contribute to nation-building."
Chief Minister Bommai congratulated all the students passing out today. He observed that a doctor is not merely someone who treats individual patients but lays the foundation of the society by curing it of all ills.
Dr. Pratima Murthy, Director, NIMHANS, and other senior health officials from the Union Ministry and the State of Karnataka were also present at the event along with faculty and staff of the institute.