Speed Post News Network
Patna : Second seed Daniil Medvedev, 25, Russia, upset top seed Novak Djokovic, 34, Serbia, in straight sets in men's singles final on September 13, 2021, early morning, on Arthur Ashe Stadium, New York, USA,  to lift the US Open title, his first Grand Slam title, dashing the latter's hope of winning a Calendar Slam. Djokovic banged his racket thrice on the ground  in frustration during the match and even broke it.
Medvedev, who had lost to the Serbian in Australian Open final this year, beat Djokovic 6-4, 6-4, 6-4 i final to win the US Open title in second attempt. The Russian had lost to Rafael Nadal, 35, Spain, in 2019 final. Medevedev won 4 break points during the match to 1 by the Serbian, who was biding for his 21st Grand Slam title to go one up on Roger Federer, Switzerland, and Nadal. But, the Russian shattered his dreams. This was 13th career title of Medvedev.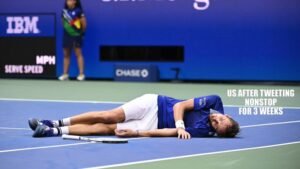 Medvedev hammered 16 Aces during the match to 6 by Djokovic. The Russian also won 5 games in a row during the match to 3 by Djokovic. Medvedev, however, also committed 9 double faults to 3 by Djokovic. The Russian, in all, won 99 points during the match to 83 by the Serbian. Djokovic had taken five-sets to beat Alexander Zverev, Germany, in semi-final.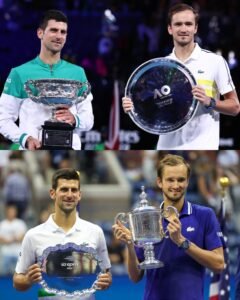 (from Australian Open to US Open)