Speed Post News Network
Chas (Jharkhand) : Two students of Delhi Public School, Chas, in Bokaro District, Jharkhand, have been awarded Merit Certificates by CBSE for securing position in the top Merit list of 2020 CBSE Class 10th Exams. The students who received the merit certificates are:  Rahul Kumar and Sreijan Sinha, who scored 100/100 in Sanskrit and Mathematics respectively.
As per the CBSE Board criteria, Certificate of Merit is awarded in each subject to the successful candidates to recognise their qualities and outstanding performance at Secondary School Examination.
Elated with his achievement, Rahul Kumar said, "I am grateful to the school, teachers, and my parents for their encouragement, blessings and inspiration. I aspire to become a doctor  and the school has provided me the best platform."
Sreijan Sinha, who wants to pursue Computer Science for his higher studies, said, "As far as career is concerned, I want to become a software engineer as I am fascinated with the dynamics of technology."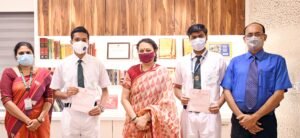 Congratulating the students on their achievement, Dr Hemlata S Mohan, Chief Mentor, DPS Chas, said, "This recognition characterises students as one of the best statesmen in the making. The school feels proud of the successful students and will always look up to them for  guiding the juniors in their trajectory of education. Hope the next batches would put their best at upcoming exams."
Dean Academics Dr Sanjay Kumar Mallick described the students' performance as exemplary that would raise the benchmarks for the school and its students. He congratulated the teachers for their hard work and guidance and parents for their constant support.