Speed Post News Network
Chas ( Jharkhand) : DIG, Bokaro, Mayur Patel, inaugurated a new laboratory, "The Business Lab", at Delhi Public School Chas in Bokaro District, Jharkhand, on October 9, 2021. "The Business Lab" aims to blend the pedagogy wheere practice equalises theory thereby building in students the much-required entrepreneurial expertise, financial leadership, and management skills with the support of ACCA.
Established in 1904, ACCA ( The Association of Chartered Certified Accountants) is the world's leading forward-thinking professional accountancy body.  They have more than 2,33,000 fully qualified members and 5,36,000 students worldwide. They're among the world's best-qualified and most highly sought-after professionals and have a global standard in accountancy.
DIG Mayur Patel was the Chief Guest on the occasion. Krishan Mishra – Head of North and East India ACCA along with Chief Mentor Dr Hemlata S Mohan and Pro Vice Chairman N Muralidharan of DPS Chas, and Suresh Agarwal – Secretary, D S Memorial cum Member DPS Chas were prominent among those on the occasion.
The objective of the business lab is to instill financial, entrepreneurial leadership in students with an objective to inculcating the management skills among them The concept of business has always been reckoned under the stream of Commerce but today in the progressive world of emerging and unicorns the barrier confining the Commerce stream has widened and every youngster is attracted to taste the nectar of self-dependency and self-reliance by becoming a part of the wide trending concept of startups.
The Business Lab is equipped with many hands-on games and activities that will help students in understanding the actual current of capitalism. The foundation to impart the understanding of the word business is even embedded with the vision of the 'New Education Policy' that supports and nurtures the financial literacy.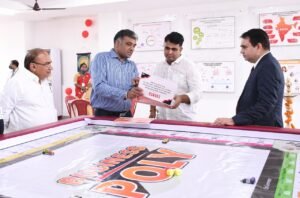 Speaking on the occasion,Chief Guest Mayur Patel said, "The Business Lab will help develop the global competency and keep students abreast with the recent changes in the business world. It will orient the students in practical training and help in grasping the difficult topics easily."
Chief Mentor, DPS Chas, Dr Hemlata S Mohan said, "It is very important to let students get the experience of the 'Corporate Environment'. The school always foresee students as leaders who can govern the world with their incomparable roles. Interactive classes and conducive environment are sure to mould the students psyche and transform them into iconic personalities. Only experiential learning has the power to bestow such embodiment."
With this landmark step, DPS Chas is evidently fostering a proactive and super progressive educational structure which is sure to make individuals Atmanirbhar