Speed Post News Network
New Delhi : Union Minister of State for MSME Bhanu Pratap Singh Verma on October 17, 2021, inaugurated a state-of-the-art Khadi exhibition displaying exquisite handcrafted products from 20 Indian states in Varanasi. KVIC also organized a "Khadi Kareegar Sammelan" (Khadi artisans' conference), which was attended by over 2,000 Khadi artisans, mostly women, from Varanasi and 12 adjoining districts like Prayagraj, Jaunpur, Mirzapur, Ghazipur, Sonbhadra, etc.
A total of 105 stalls have been set up by Khadi Institutions from states like Uttar Pradesh, Jammu & Kashmir, Punjab, Gujarat, Haryana, Himachal Pradesh, Leh-Ladakh, Rajasthan, Uttarakhand, Bihar, West Bengal, and others. A number of Khadi institutions, PMEGP units, and several SFURTI clusters from various states have also set up their stalls.
A range of exquisite Khadi products including the premium High Altitude Honey from Jammu & Kashmir, a wide variety of Kashmiri and Rajasthani woolen shawls, Muslin fabric from West Bengal, a variety of silk fabric from West Bengal and Bihar, Koti Shawls from Punjab, leather products from Kanpur, terracotta pottery from Rajasthan and Uttar Pradesh, the widely acclaimed hand-knotted carpets of Mirzapur and Prayagraj are the biggest attractions at the exhibition. This is the second such exhibition organised by KVIC at Varanasi since the Covid-19 lockdown, according to a PIB release.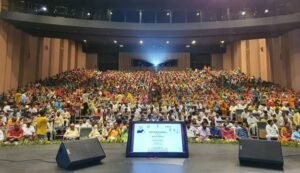 KVIC Chairman Vinay Saxena said the state level Khadi exhibition at Varanasi was a manifestation of Khadi artisans' commitment for "Aatmanirbhar Bharat". He said that KVIC has set up a large number of Khadi Institutions, PMEGP units, and SFURI clusters to strengthen the traditional arts and empower the local artisans. He added that this exhibition will be a big boost for the 'Vocal for Local' initiative and also promote Khadi.
Varanasi, which is also the Parliamentary Constituency of the Prime Minister, has rolled out a number of activities to promote Khadi and support the artisans. As many as 134 Khadi Institutions are currently working in Varanasi where women comprise nearly 80% of the total workforce.