Speed Post News Network
Bokaro ( Jharkhand)  : In a move aimed at instilling leadership quality among the students, DPS Bokaro, Jharkhand, appointed Student Council members and conferred on badges to the newly selected students at an  INVESTITURE CEREMONY held on October 6, 2021, on the school campus. The Chief Guest of the event was Chandan Kumar Jha, the Superintendent of Police, Bokaro.
For the academic session 2021-22, in the Senior Wing, Sarvagya Sanjay is the Head Boy while Kavya Jha is the Head Girl. Apurva Anand is appointed as the Vice Head Boy while Pragya Bharadwaj has been appointed as  the Vice Head Girl.
The Secretaries selected for different posts in the Senior Wing are : Aditi Agrawal, Anushka Singh (Cultural Secretary); Ayush Amlan and Ayush Kumar (Literary Secretary); Ausam Salam and Ateeb Mazhar (Sports Secretary).
In the Primary Wing, Ishaan Singh has beben selected as the Head Boy while Avani Priyadarshi has been selected as  the  Head Girl. Pranjal Chandra has been appointed as the Vice Head Boy while Aarifah Fatima has been appointed  as the Vice Head Girl of the School.
The Secretaries selected for different posts in Primary wing are : Sharda Nandini (Cultural Secretary); Aaradhya Singh (Literary Secretary); Vriddhi Srivastava (Sports Secretary). The new appointees were presented their badges by the Chief Guest. The outgoing Council Members were also awarded with certificates by the Chief guest. Following that, oath was administered to the newly selected members by DPS Bokaro Principal A S Gangwar.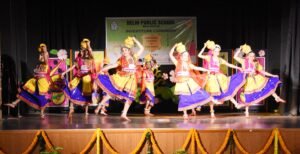 The programme commenced with the welcome song and also witnessed two invigorating dance performances by the students of the school on "Mahamaya" and "Gujrati Garba". The students, who compered the  function, were Aryan Singh, Sanjivani Kumari, Krish Raj, Akriti Shloka, and Anuvanshika.
The Chief Guest congratulated the newly selected members for their new roles and the responsibilities ahead. Appreciating the opportunity provided by the school to the students to explore and experience the new facets of leadership, he stated," The students of DPS Bokaro are pioneers in different fields not only in the country but also across the globe.It is a rare privilege to be a student of DPS Bokaro and one should cherish it." He appreciated the efforts put in by the dedicated faculty under the able leadership of the dynamic Principal.
 Elated to be a part of the event, Chandan said that it was a privilege  to be a part of the ceremony and added that he looks forward to associate with the school and the students.
The vote of thanks was proposed by the former Head Boy Debesh Ghosh and Head Girl Anouska Mukherjee.